Water Flow Meter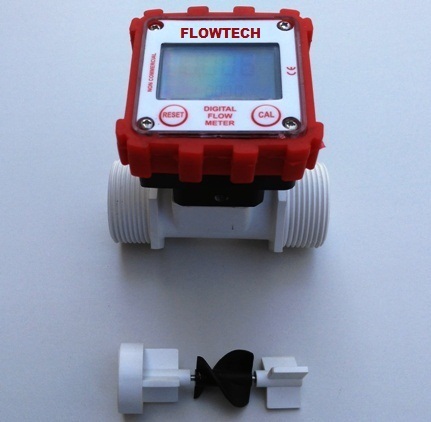 Water Flow Meter
Price And Quantity
Piece/Pieces

21000.00 INR
Product Description
The water flow meters from FLOWTECH are expertly engineered to measure electrically conductive liquids precisely inside of closed pipe systems. These sophisticated meters work by sensing electromotive forces to calculate liquid velocity and applying Faraday's law of electromagnetic induction. Then, specifically for conductive liquids with a minimum conductivity of 5 micro Siemens per centimeter, they compute the flow rate using the conductivity equation. Surprisingly, these water flow meters show resistance to the effects of changes in the flowing liquid's temperature, pressure, viscosity, and density.
Water Flow Meters Features:
It is made using high quality materials.
It uses Faraday's law of electromagnetic induction.
It has been expertly manufactured.
Working Principle of Water Flow Meter:
This is working on the principal of faraday`s law which states that when a conductor moves through a magnetic field of a given strength a voltage is produced in the conductor and proportion to the relative velocity between the conductor and the magnetic field.
Technical Detail of Water Flow Meter:
Nominal Dia (mm) : 15 to 400
Material of Construction : MS, SS 304, SS 316 & SS 316L
Electrode Material : SS 316, SS 316L, Hastelloy , & Tantalum
Process Pressure : Max. 25 kg/cm2
Process Temperature : Max. 150C
Flow Tube Material : SS 316
End Connection : Flange/Wafer
Flange- Standard : ANSI B 16.5 150 #RF / 300 # RF
Measuring Range : 0.5 m/sec for Minimum & 5m/sec for Maximum
Accuracy : 1%
FSD Optional: 0.5% FSD
Repeatability : 0.3%
Display : 2 Line Alfa Numeric LCD
Display Version : Integral /Remote
Display Unit : Standard Unit in M3, Litre
Power Supply : 230 VAC, 110 VAC & 24 VDC
Output : Std. 4-20 mA
Protection Class for Sensor : IP 65
Protection Class for Transmitter : IP 65
Cable Length for Remote : 10 meters
Installation : Inline Flange Type.
FAQs - Water Flow Meter:
What is the needed minimum conductivity for the liquid being measured?
The conductivity of the conductive liquids being tested should be at least 5 microsiemens/cm.
What are the uses of Water Flow Meters?
Water Flow Meters are used in a variety of sectors and applications that need flow rate monitoring, such as water treatment facilities, industrial processes, HVAC systems, irrigation systems, and others.
Is it necessary to calibrate the Water Flow Meter?
Yes, frequent calibration is suggested to guarantee the Water Flow Meter's accuracy. The frequency of calibration is determined by the application and needs.
Can gas flow be measured using this device?
No, the Water Flow Meter is only intended for measuring the flow of electrically conducting liquids and is not appropriate for detecting gas flow.