SS Water Flow Meter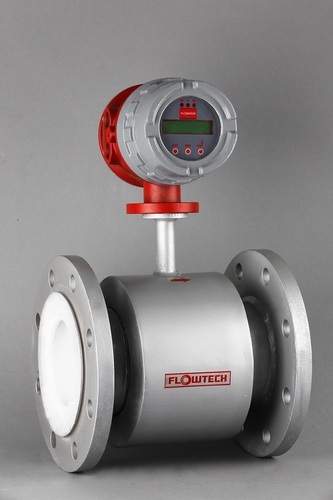 SS Water Flow Meter
Price And Quantity
Piece/Pieces

20000.00 - 25000.00 INR
Product Description
FLOWTECH Make SS Water Flow Meter are intended for measuring flow of electrically conductive liquids in closed pipe lines where the magnetic flux permeates the entire cross sectional area of the liquids flow. SS Water Flow Meter measure electromotive forces to determine liquids velocity using Faraday's law of electromagnetic induction and compute the flow rate using equation of conductive liquids having minimum conductivity of 5 micro Siemens / cm and are relatively immune to the effects of temperature, pressure, viscosity & density of the flowing liquid.
Working Principle of SS Water Flow Meter:
This is working on the principal of faraday`s law which states that when a conductor moves through a magnetic field of a given strength a voltage is produced in the conductor and proportion to the relative velocity between the conductor and the magnetic field.
Technical Detail of SS Water Flow Meter:
Nominal Dia (mm): 15 to 400
Material of Construction: MS, SS 304, SS 316 & SS 316L
Electrode Material: SS 316, SS 316L, Hastelloy , & Tantalum
Process Pressure: Max. 25 kg/cm2
Process Temperature: Max. 150C
Flow Tube Material: SS 316
End Connection: Flange/Wafer
Flange- Standard: ANSI B 16.5 150 #RF / 300 # RF
Measuring Range: 0.5 m/sec for Minimum & 5m/sec for Maximum
Accuracy: 1% FSD Optional: 0.5% FSD.
Repeatability: 0.3%
Display: 2 Line Alfa Numeric LCD
Display Version: Integral /Remote
Output: Std. 4 - 20 mA
Protection Class for Sensor: IP 65
Protection Class for Transmitter: IP 65
Cable Length for Remote: 10 meters
Installation: Inline Flange Type.
FAQs - SS Water Flow Meter:
Can an SS Water Flow Metre be used for fluids other than water?
While intended for use with water, an SS Water Flow Meter can also be used with other suitable fluids that are compatible with stainless steel materials.
What are the most popular sizes for SS Water Flow Meters?
SS Water Flow Meters are available in a variety of sizes, starting with modest diameters like 15 mm and progressing to enormous ones like 400 mm or more.
Are stainless steel water flow meters appropriate for industrial applications?
Yes, SS Water Flow Meters are widely utilized in industrial applications due to its rugged structure and corrosion resistance.
Are SS Water Flow Meters appropriate for both indoor and outdoor applications?
Yes, because they are intended to resist a variety of weather conditions, SS Water Flow Meters may be put both indoors and outdoors.