Glass Tube Rotameters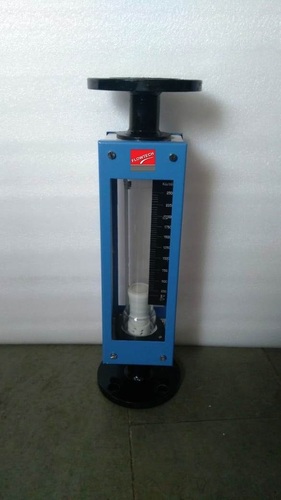 Glass Tube Rotameters
Product Description
"FLOWTECH Glass Tube Variable Area Flow Meters (Rotameters) are intended for general in line and By-Pass metering applications (i.e. for Gas & Liquid) where operating conditions are with the limitations of Glass metering tubes. These are the principle of Variable Area. The float moves freely up and down tapered borosilicate glass with fluid flow from bottom to top. The float takes up a position where buoyancy forces and the float weight are balanced in proportion to flow rate. The Vertical position of the float as indicated by scale is the measure of the instantaneous flow rate.
Technical Details:
1) Accuracy :+/- 2% F.S.D.
2) Temperature Ratings : Maximum Operating Temperature rating is 121o C for Gas services and 93 o C for Liquid services.
3) Repeatability :0.5 %
4) Connections :Flanged OR Screwed OR Triclover Joint OR Hose Nipple.
5) Rangebility: 10:1
6) Enclosure :IP 55 OR IP 65 on request.
Scale length : 180-200 mm.
Materials Of Constructions:
1) Tube : Borosilicate Glass
2) Float : SS316, PTFE, Aluminium and P.P.
3) Pickings : Neoprene, PTFE, Silicon, Viton
4) Frame and Cover : M.S.OR SS
5) End Fitting :M.S.,C.S., SS304, SS316, CF-8M, CF8, C.I. PTFE Lined, SS PTFE Lined, PVC, others on request.
6) Frame and Cover : M.S.OR SS