Float and Board Level Gauge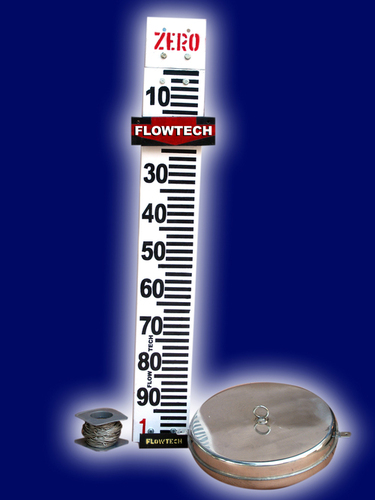 Float and Board Level Gauge
Product Description
Float and Board Level Gauge uses the buoyancy of a gloat to measure the level of liquid in tanks. Such devices are suitable for application in atmospheric storage tanks in petroleum and pharmacy industries, OEMs, etc. In such applications the specific gravity of liquid need to be more than 0.6 such as in acid tanks, oil tanks, and storage tanks of fire / DM water alkalis, lube oil, acids furnace oils, vegetable oil, glucose and Molasses among others.
Our company is a trusted manufacturer and exporter of Float and Board Level Gauge in India. We deliver our products to not just domestic customers but to overseas clients as well. The float is designed as per the specific gravity of fluid that floats on the liquid level.

Salient features:
Flowtech float & Board level indicators are manufactured in different materials like SS304 / SS316 /PP / PTFE, etc.
The float is attached to a magnetized counter weight floating in a sealed SS pipe and which sets in motion a specific magnetized bi - color capsule inside a glass tube to show liquid level.
We also provide Seal Type float & Board type level gauge used for tanks having corrosive fumes / vapours OR N2 [Nitrogen] Purging tanks.
Vapors seals (Magnetic) for special applications like HCL, diluted alkalis, N2 purged tank, diluted HNO3, Benzene, NH3 Methanol, etc.
Pointer of the level indicator moves on a 150 mm width aluminium powder coated scale.
In vapor seal there is no sealing liquids so we get absolute vapor tightness.
Trade Information
1 Week

As per requirement