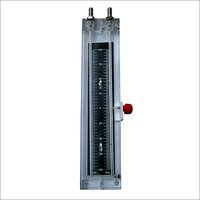 U-Tube Manometer Manufacturers
Product Description
U-Tube Manometer Manufacturers:Pressure measuring devices using liquid columns in vertical or inclined tubes are called manometers. One of the most common is the water filled u-tube manometer used to measure pressure difference in pitot or orifices located in the airflow in air handling or ventilation system.
In the figure bellow illustrates the water levels in an u-tube where the left tube is connected to a point with higher pressure than the right tube - example: the left tube may be connected to a pressurized air duct when the right tube is open to the ambient air.
A common problem when measuring the pressure difference in low velocity systems - or systems with low density fluids - like air ventilation systems - are low column heights and accuracy. Accuracy can be improved by inclining the u-tube manometer.
The figure bellow indicates a u-tube where the left tube is connected to a higher pressure than the right tube. Note that the left and the right tube must in the same declined plane for the angle to the horizontal plane to be correct
Contact Us
900/2/B, GIDC Estate, Makarpura, Vadodara, Gujarat, 390010, India
Phone :+918068091445